Sustainable business practice

Achieving climate neutrality
Every person and every company has an impact on the environment and Pearson is no exception. Our books, magazines and newspapers use paper – a vitally important natural resource. We use energy to heat, cool and light our buildings and to power the computers we rely on to share our ideas, products and stories. Our people travel to and for work and our books, products and newspapers are shipped and driven all over the world. Globally, Pearson emits about 200,000 metric tonnes of carbon dioxide each year, about 70% of which is produced by our businesses in the US. In early 2007, we set ourselves the target of achieving climate neutrality for our existing businesses by the end of 2009. We'll seek to offset in 2010 whatever emissions we have been unable to avoid in 2009, supporting a range of projects that have the potential to either save or absorb a tonne of carbon for each tonne that we emit. In the UK, Pearson is switching to the international environment standard ISO 14001, an Environmental Management System (EMS) that enables us to address the delicate balance between maintaining our profitability and minimising our environmental impact. Initial assessments have been successfully completed across the FT, Pearson Education and Penguin in the UK, Pearson companies in India have begun the ISO 14001 process, and our companies in the US have been considering implementing this EMS. We introduced an Environment Policy back in 1992, reviewing and updating it in 2000, 2004, 2007 and again in 2008: the full policy can be viewed here.
Activity summary
Facilities managers across Pearson companies have been working on a programme of retro fitting buildings with better insulation, sensor lighting and energy efficient light bulbs to reduce our energy consumption. A major lighting upgrade at our distribution centre in Lebanon, Indiana delivered a $200,000 reduction in energy bills and reduced the carbon footprint of the building by 1,800 metric tonnes of CO2 (15%) in 2008. A server virtualisation programme we launched in 2006, covering the FT, Pearson Education, Pearson Australia and Pearson Shared Services in the UK has now helped us save over $10m and reduce our carbon footprint by over 3,500 metric tonnes of CO2.
By improving the video conferencing facilities in our buildings, our companies have been able to reduce the necessity to travel. Pearson held its first virtual Town Hall meeting on 3 December 2008, a highly interactive event allowing Pearson people from around the world to converse and discuss ideas without leaving the office. The total cost was less than 20% of traditional in-person forums through savings on a conference venue, travel fares and overnight accommodation, also avoiding over 300,000 air miles and the resulting emissions. For essential travel, we've been encouraging our people to avoid flights wherever possible and we're gradually 'greening' our car fleet. Over 40 Penguin staff travelled from the UK to the Frankfurt Book Fair by train in 2008, while Penguin in both the US and UK have reduced the number of cars in their fleet, aiming to replace others with hybrid vehicles as these become more affordable. More information on Green Penguin activity is available on the UK and US websites.
Across the company, Pearson people are volunteering to join Green Teams and Eco Committees to discuss and implement changes in habits and policy at their offices. More than 30 teams across Australia, Canada, India, the UK and the US are now involved in campaigning for their co-workers to turn off screens and computers, switch off lights, use tap instead of bottled water for meetings, join car pools, ride bicycles, and a myriad of other green tips and behavioural changes that will add up to make a big difference. We've also established two Green Funds in 2008 – one in the UK and one in North America – to stimulate innovation and investment by our operating companies in carbon saving programmes.
Snapshots
http://longmanusagoinggreen.com A website put together by the people at Longman ELT to offer green tips of the week, a link to an environmentally-friendly What's New 2009 catalogue with fewer pages, printed on recycled paper and mailed only to those who request it, plus an outline of the 'green' activities at Longman around the US.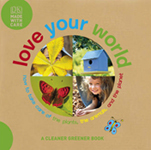 Made With Care A video explaining Dorling Kindersley's newly launched Made with Care range, the greenest books ever made by the company, prepared with the most ethical and environmentally-friendly processes we could source.
Planet Pearson Planet Pearson is a cross-company environmental intranet site launched as a pilot in the US, with a view to expanding its usage across our international business. The site serves as a communications hub where Pearson people can share ideas, resources and suggestions on the many eco friendly initiatives taking place around the company.