Valuing our people

Balancing life and work
We are a competitive company, committed to our commercial and publishing goals. But we also believe that people are most effective at work when they have the flexibility, tools and resources to manage their personal lives. We work hard to keep our people fulfilled in their roles, giving them opportunities to increase their skills, to take on international projects and move between businesses, and to ensure they are able to balance life and work. We believe that mobility should be an option wherever appropriate for both the company and the individual, and with businesses in 66 countries covering all of the world's regions, that's something we can offer our people. We follow a set of global principles to guide how we reward our people that go beyond the issue of salary. These principles include providing compelling health, welfare and retirement benefits for all our staff to help them make the right choices for themselves and their families, not only for today, but for tomorrow; providing locally competitive pay that recognises the relevant recruitment market, business sector and geographic region; using incentives to drive performance; and recognising the contribution of all our people. We know that our people are more likely to stay with our company if their role can evolve alongside any changes in their personal circumstances, and we will go out of our way to protect our most important assets.
Activity summary
Each of our people has unique needs and we offer a variety of programmes and initiatives to complement these. Examples include flexible work arrangements, telework assignments, employee assistance programmes, back-up care for children and adult dependants, personal planning advice for elder care, sabbaticals, summer hours and convenience services.
In 2008, we took the difficult decision to award a 2009 pay increase to only those people who are currently earning less than $50,000 a year, a preemptive action against the uncertain climate to allow us to continue investing in the business and to protect as many jobs as we can.
In the second year of our New Directions programme – an initiative set up to help Pearson people undertake a short-term assignment in a different part of the world – we helped 102 people move between companies and countries, up from 67 in 2007 and beating our target of 100 moves.
Snapshots
New Directions A video showing our international short-term mobility programme. The programme has just relaunched its website to make it more user-friendly, including details of the offices Pearson has all over the world.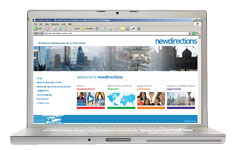 Pearson Shared Services and facilities staff at our UK head office became the latest Pearson companies to participate in a disability training course developed by Scope, the disability rights organisation. Penguin UK also rolled out the course to their managers.