Valuing our people

Building our community
We aim to attract, take on and promote the most talented people, irrespective of race, gender, age, physical ability, religion or belief, sexual orientation, marital/civil partnership status or any other criteria not specifically related to relevant aptitudes, potential, skills and abilities. Increasing our diversity isn't a cosmetic or a political exercise for us – we believe that as an international company, a workforce where differences are valued and respected is vital to our future, and we want minds and imaginations from as broad a base as possible right across the company. We know that maintaining excellent channels of communication is central to making all those voices heard, contributing in turn to the motivation, the pride and the sense of ownership people feel about their role at Pearson. It is also crucial for pulling the best potential Pearson people in and encouraging them to stay with us. We want to reflect the societies in which we operate: we don't set specific targets, but our continued goal is to have diversity at the heart of everything we do, and to be the best in our industry for diversity. We have dedicated Diversity Teams and Councils in both the US and the UK, a senior member of staff at each Pearson company who acts as a Diversity Champion, and a widely publicised set of initiatives communicated on internal intranets and through the Diversity website.
Activity summary
Over the past five years, the overall number of women in the US and UK workforce has remained consistently high, with females representing 60% and 56% of the total population at Pearson in the US and UK respectively. More than half of Pearson managers are female and women now comprise 32% and 20% of the US and UK senior management teams respectively.
In the UK, the segment of our workforce from a minority ethnic background has increased every year to over 14% in 2008, up from 9% five years ago. In the US, that segment has grown from 15.7% in 2005 to 19.9% in 2008, with a 2% increase in minority managers, to 12% of the team. UK managers of minority backgrounds represent 11% of the team.
In 2008, we launched our World Wide Save for Shares (WWSFS) plan in 63 countries, translating our staff website and plan documents into 15 different languages, including Lithuanian, Polish, Portuguese, traditional and simplified Chinese, Japanese, Malay and Filipino. Modelled on the UK Save As You Earn scheme, we have offered Save For Shares to our UK people since the 1980s and to our international staff since 1998.

Snapshots
The pan-Pearson communications programme now includes informal social networking tools like Yammer, Facebook, wiki groups, Twitter and FriendFeed to add to the various blogs, internal company-specific intranets, regular newsletters and large-scale annual presentations from senior managers to staff around the world.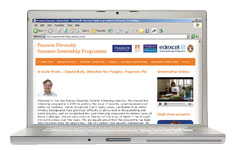 Our UK Diversity team relaunched their summer internships website in 2008, now featuring the newly formed diversity partnership with The Economist (of which Pearson owns 50%).